Best Restaurants in Bangalore: A Vegetarian's Delight
Bangalore, the bustling city known for its vibrant culture and diverse culinary scene, offers a plethora of options for vegetarian food enthusiasts. Whether you're a resident or a visitor, navigating the city's top vegetarian restaurants can be a delightful journey. In this blog post, we will take you on a gastronomic adventure through some of the best veg restaurants in Bangalore. From innovative fusion cuisine to traditional South Indian delicacies, these establishments offer a wide range of flavors to satisfy your palate.

MTR - Mavalli Tiffin Room: Located in the heart of Bangalore, MTR is an iconic vegetarian restaurant that has been serving delectable South Indian fare since 1924. This legendary establishment is famous for its mouthwatering masala dosas, a must-try for any visitor. The dosas at MTR are impeccably crisp and flavorful, accompanied by a variety of chutneys and sambar. The restaurant also serves a delectable Rava Idli, a semolina-based idli that melts in your mouth. Pair your meal with a refreshing filter coffee to complete the authentic South Indian experience.


Brahmin's Coffee Bar: For a true taste of traditional Bangalorean breakfast, head to Brahmin's Coffee Bar in Basavanagudi. This humble eatery is renowned for its idlis, vadas, and filter coffee. The idlis here are soft, fluffy, and served with a generous dollop of ghee, enhancing their flavor. The crispy vadas are a perfect accompaniment, and the aromatic filter coffee provides a soothing end to your meal. With its rustic charm and authentic flavors, Brahmin's Coffee Bar continues to attract locals and tourists alike.

Sattvam: For a fine dining experience that celebrates vegetarian cuisine, Sattvam is an excellent choice. Located in Jayanagar, this restaurant offers a lavish buffet featuring a diverse range of dishes from various Indian regions. From North Indian delicacies like paneer tikka and dal makhani to South Indian favorites like bisibele bath and avial, Sattvam showcases the rich culinary heritage of India. Don't miss their delectable desserts, including the popular Kesari Bath and a variety of Indian sweets.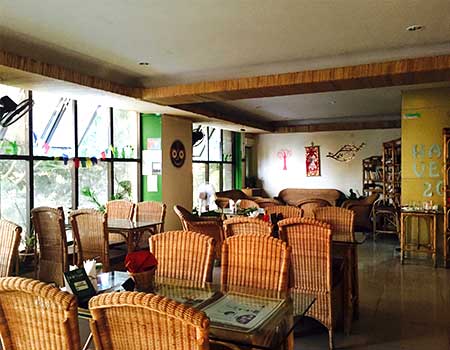 Carrots: If you're looking for a place that caters to the health-conscious and offers vegan options, Carrots is a perfect fit. Situated in Koramangala, this vegan restaurant serves a wide array of innovative and nutritious dishes. Their menu features items like vegan burgers, wraps, salads, and smoothies. One of their most recommended items is the Buddha Bowl, a colorful and balanced meal comprising a variety of fresh vegetables, grains, and plant-based protein sources. The Buddha Bowl at Carrots is not only visually appealing but also packed with flavors and nutrients.



The Higher Taste: Located within the ISKCON temple premises in Rajajinagar, The Higher Taste is a vegetarian restaurant known for its authentic Hare Krishna cuisine. This establishment offers a tranquil dining experience coupled with a delectable spread of vegetarian dishes. One of their standout dishes is the Rajbhog Thali, a grand feast featuring a variety of curries, rice, bread, and sweets. The Thali offers a wholesome and fulfilling culinary experience, showcasing the rich flavors and textures of traditional Indian cooking.

Conclusion: As a vegetarian in Bangalore, you're spoilt for choice when it comes to exceptional dining experiences. From the legendary MTR to the health-conscious Carrots, each restaurant mentioned above offers a unique culinary journey. Whether you're craving traditional South Indian fare, exploring innovative vegan options, or indulging in a lavish buffet, these veg restaurants in Bangalore are sure to satisfy your taste buds. So, go ahead and embark on a gastronomic adventure to discover the best vegetarian delights that this city has to offer. Remember, Bangalore's vibrant food scene is a testament to its rich culinary heritage and the diverse preferences of its residents and visitors.

When it comes to versatile cooking in Indian kitchens, MACclite Cookware are the best choice for Bangalore cuisine. Their durability, heat retention, and even heat distribution make them ideal for stir-frying, sautéing, simmering, and deep-frying. MACclite, a Bangalore-based manufacturer, offers high-quality Sheet Metal Iron woks that are perfect for creating healthy and flavorful meals. With their commitment to providing top-notch kitchenware, MACclite is an excellent option for those seeking quality products to enhance their cooking experience and promote a healthy lifestyle.